NEW BOOK –  AND: Making A Difference By Leveraging Polarity, Paradox Or Dilemma. Two Volume Set
And Making a Difference by Leveraging Polarity, Paradox or Dilemma. Volume I – Foundations
is Barry's upcoming book based on 45 years of application!!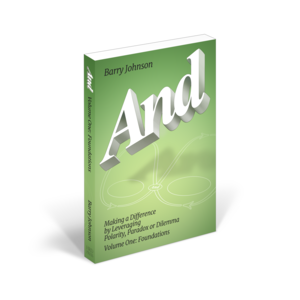 Volume One – Foundations, by Barry Johnson is a resource for people who want to make a positive difference. How? By overcoming two obstacles: resistance to change and polarization. From a problem-solving perspective, either of these challenges could be overwhelming. From a Polarity Thinking perspective, both can be addressed by replacing Or with And when And is required.
Regardless of the size of the system that you want to change, this book guides you through a clear process:
Seeing: Is this an issue where And is required?

Mapping: How can I see a more complete picture and respect alternative views?

Assessing: How are we doing with this polarity?

Learning: What can we learn from our assessment results?

Leveraging: What action steps will we take to make a positive difference?
Reading this book will help you address resistance to your efforts to make a difference. Also, it will help you address chronic conflicts that become vicious cycles as both sides become more polarized. You will learn when and how to bring And into your efforts to make a positive difference. When done well, supplementing Or thinking with And thinking will help you convert the wisdom of those resisting change into a resource to support a more effective change. And thinking will help you join polarized groups and convert a vicious cycle into a benefit for all. The results will benefit both groups and the larger system that they are a part of.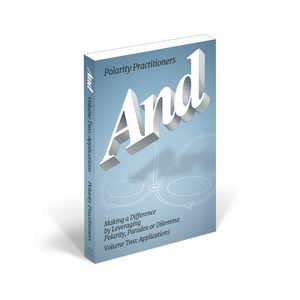 Volume Two – Applications will include the voices of people from marginalized groups who all have completed a Two-Year Polarity Mastery Program and are skilled in leveraging polarities. Each author provides an example of how they have applied Polarity Thinking to make a difference in their life and work. The authors come from a variety of disciplines having worked inside organizations as founders and leaders and as external resources to organizations as coaches, trainers, organizers for justice and equity, consultants, and teachers. Their stories can be used and adapted to your unique situation. The variety of examples will expand your possibilities and help you avoid common pitfalls as you apply Polarity Thinking. These diverse examples demonstrate how you can succeed in making a difference by combining your life experience with Polarity Thinking and the Polarity Map®
Volume One: Available NOW!
Volume Two: Available NOW!
7" x 10" Paperback
Volume One – 344 Pages
Volume Two – 336 to 368 Pages