VUCA Reality and VUCA Hope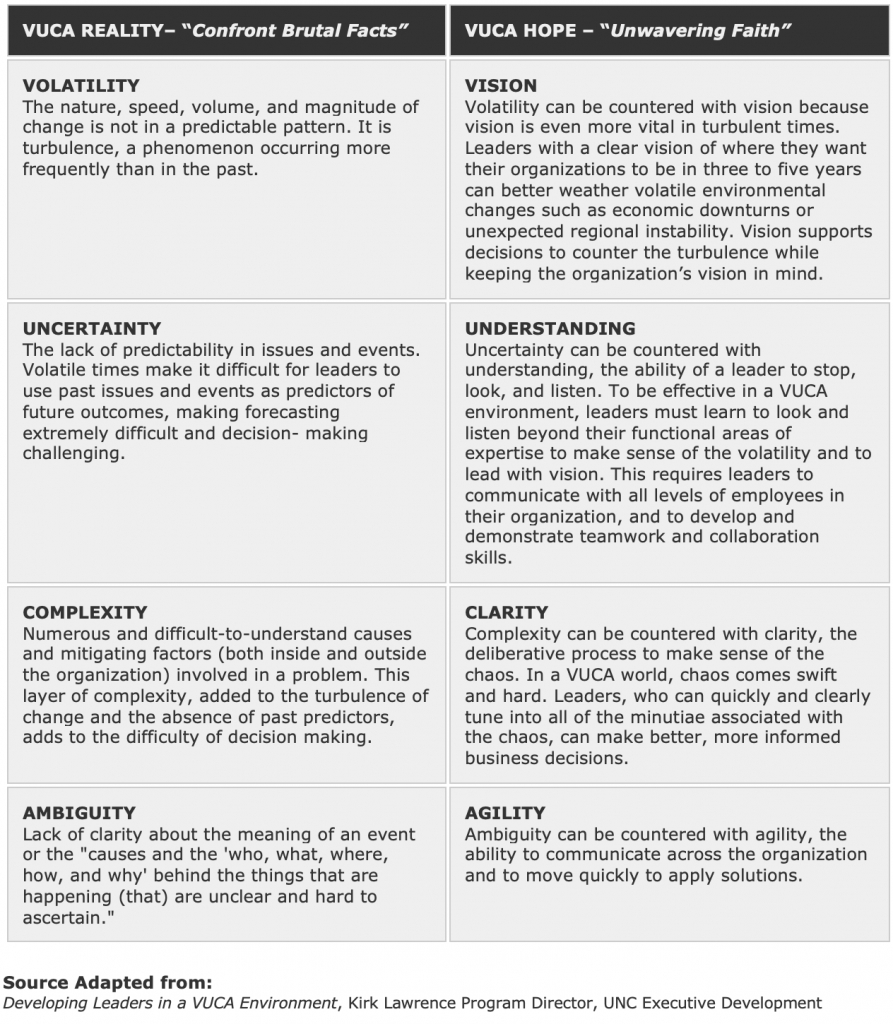 BTW — "Confronting the Brutal Facts" and "Unwavering Faith" comes from Jim Collins Good-to-Great — the Stockdale Paradox, which is discussed in a previous post.

Cliff is an experienced organization development (OD) consultant, executive coach, and leadership trainer overseeing
Polarity Partnerships'
east coast operations out of Washington, DC. In 2017, Cliff became a founding partner of the 501(c)3 organization the
Institute for Polarities of Democracy
and in 2018 the healthcare coaching/consulting firm,
SixSEED Partners
. Cliff is a faculty member at American University's Master's in OD and KEY Executive programs and is a Coaching Fellow for George Mason's Accredited Coach Training Program under the Center for the Advancement of Well-being. His past work experience includes VP of Organizational Development and Training for
The National Cooperative Bank
, Senior OD Consultant for
The Washington Post
, and Corporate Manager of Human Resources (HR) and Training for
The Washington Post Company
. Cliff earned Master's Degrees in OD (2007) and HR Management (1998) from
The American University
and his Coaching Certification from
Georgetown's Executive Leadership Coaching Program
in (2008). He is a PCC (Professional Certified Coach) and a graduate of the 2-year Polarity Mastery program (2010), and has served as the program dean since 2014.