The Supreme Court's gay marriage decision contributed to improving the degree of leverage between Part and Whole on our nation's path to a more perfect union.
I celebrate it here by pulling a few choice pieces from Justice Kennedy into a Part and Whole Polarity Map.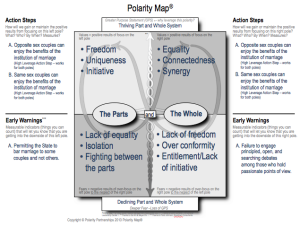 Upside benefits of Part—Freedom, Uniqueness, and Initiative
"The Constitution promises liberty to all within its reach, a liberty that includes certain specific rights that allow persons, within a lawful realm, to define and express their identity."
"A first premise of the Court's relevant precedents is that the right to personal choice regarding marriage is inherent in the concept of individual autonomy. This abiding connection between marriage and liberty is why Loving invalidated interracial marriage bans under the Due Process Clause."
"Finally, it must be emphasized that religions, and those who adhere to religious doctrines, may continue to advocate with utmost, sincere conviction that, by divine precepts, same-sex marriage should not be condoned. The First Amendment ensures that religious organizations and persons are given proper protection as they seek to teach the principles that are so fulfilling and so central to their lives and faiths, and to their own deep aspirations to continue the family structure they have long revered. The same is true of those who oppose same-sex marriage for other reasons. In turn, those who believe allowing same-sex marriage is proper or indeed essential, whether as a matter of religious conviction or secular belief, may engage those who disagree with their view in an open and searching debate. The Constitution, however, does not permit the State to bar same-sex couples from marriage on the same terms as accorded to couples of the opposite sex."
"Under the Due Process Clause of the Fourteenth Amendment, no State shall "deprive any person of life, liberty, or property, without due process of law." The fundamental liberties protected by this Clause include most of the rights enumerated in the Bill of Rights. See Duncan v. Louisiana, 391 U. S. 145, 147–149 (1968). In addition these liberties extend to certain personal choices central to individual dignity and autonomy, including intimate choices that define personal identity and beliefs. See, e.g., Eisenstadt v. Baird, 405 U. S. 438, 453 (1972); Griswold v. Connecticut, 381 U. S. 479, 484–486 (1965). The identification and protection of fundamental rights is an enduring part of the judicial duty to interpret the Constitution."
"As all parties agree, many same-sex couples provide loving and nurturing homes to their children, whether biological or adopted. And hundreds of thousands of children are presently being raised by such couples. See Brief for Gary J. Gates as Amicus Curiae 4. Most States have allowed gays and lesbians to adopt, either as individuals or as couples, and many adopted and foster children have same-sex parents, see id., at 5. This provides powerful confirmation from the law itself that gays and lesbians can create loving, supportive families."
"The dynamic of our constitutional system is that individuals need not await legislative action before asserting a fundamental right. The Nation's courts are open to injured individuals who come to them to vindicate their own direct, personal stake in our basic charter. An individual can invoke a right to constitutional protection when he or she is harmed, even if the broader public disagrees and even if the legislature refuses to act."
Upside benefits of Whole—Equality, Connectedness, and Synergy
"No union is more profound than marriage, for it embodies the highest ideals of love, fidelity, devotion, sacrifice, and family. In forming a marital union, two people become something greater than once they were. As some of the petitioners in these cases demonstrate, marriage embodies a love that may endure even past death. It would misunderstand these men and women to say they disrespect the idea of marriage. Their plea is that they do respect it, respect it so deeply that they seek to find its fulfillment for themselves. Their hope is not to be condemned to live in loneliness, excluded from one of civilization's oldest institutions. They ask for equal dignity in the eyes of the law. The Constitution grants them that right."
"The centrality of marriage to the human condition makes it unsurprising that the institution has existed for millennia and across civilizations. Since the dawn of history, marriage has transformed strangers into relatives, binding families and societies together."
"The nature of marriage is that, through its enduring bond, two persons together can find other freedoms, such as expression, intimacy, and spirituality. This is true for all persons, whatever their sexual orientation."
"The ancient origins of marriage confirm its centrality, but it has not stood in isolation from developments in law and society. The history of marriage is one of both continuity and change. That institution—even as confined to opposite-sex relations—has evolved over time.
For example, marriage was once viewed as an arrangement by the couple's parents based on political, religious, and financial concerns; but by the time of the Nation's founding it was understood to be a voluntary contract between a man and a woman. See N. Cott, Public Vows: A History of Marriage and the Nation 9–17 (2000); S. Coontz, Marriage, A History 15–16 (2005)."
Downside limitations of Overfocusing on Part to the neglect of the Whole
"Excluding same-sex couples from marriage thus conflicts with a central premise of the right to marry. Without the recognition, stability, and predictability marriage offers, their children suffer the stigma of knowing their families are somehow lesser. They also suffer the significant material costs of being raised by unmarried parents, relegated through no fault of their own to a more difficult and uncertain family life. The marriage laws at issue here thus harm and humiliate the children of same-sex couples."
"Same-sex couples are consigned to an instability many opposite-sex couples would deem intolerable in their own lives. As the State itself makes marriage all the more precious by the significance it attaches to it, exclusion from that status has the effect of teaching that gays and lesbians are unequal in important respects. It demeans gays and lesbians for the State to lock them out of a central institution of the Nation's society. Same-sex couples, too, may aspire to the transcendent purposes of marriage and seek fulfillment in its highest meaning."
"To

[gay marriage foes], [same-sex marriage] would demean a timeless institution if the concept and lawful status of marriage were extended to two persons of the same sex. Marriage, in their view, is by its nature a gender-differentiated union of man and woman. This view long has been held—and continues to be held—in good faith by reasonable and sincere people here and throughout the world."

 "The nature of injustice is that we may not always see it in our own times. The generations that wrote and ratified the Bill of Rights and the Fourteenth Amendment did not presume to know the extent of freedom in all of its dimensions, and so they entrusted to future generations a charter protecting the right of all persons to enjoy liberty as we learn its meaning. When new insight reveals discord between the Constitution's central protections and a received legal stricture, a claim to liberty must be addressed."

"In Loving v. Virginia, 388 U. S. 1, 12 (1967), which invalidated bans on interracial unions, a unanimous Court held marriage is "one of the vital personal rights essential to the orderly pursuit of happiness by free men." The Court reaffirmed that holding in Zablocki v. Redhail, 434 U. S. 374, 384 (1978), which held the right to marry was burdened by a law prohibiting fathers who were behind on child support from marrying. The Court again applied this principle in Turner v. Safley, 482 U. S. 78, 95 (1987), which held the right to marry was abridged by regulations limiting the privilege of prison inmates to marry. Over time and in other contexts, the Court has reiterated that the right to marry is fundamental under the Due Process Clause."

"The Court, like many institutions, has made assumptions defined by the world and time of which it is a part. This was evident in Baker v. Nelson, 409 U. S. 810, a one-line summary decision issued in 1972, holding the exclusion of same-sex couples from marriage did not present a substantial federal question."

"The respondents also argue allowing same-sex couples to wed will harm marriage as an institution by leading to fewer opposite-sex marriages. This may occur, the respondents contend, because licensing same-sex marriage severs the connection between natural procreation and marriage. That argument, however, rests on a counterintuitive view of opposite-sex couple's decisionmaking processes regarding marriage and parenthood. Decisions about whether to marry and raise children are based on many personal, romantic, and practical considerations; and it is unrealistic to conclude that an opposite-sex couple would choose not to marry simply because same-sex couples may do so."

"Downside limitations of Overfocusing on Whole to the neglect of the Part

"Many who deem same-sex marriage to be wrong reach that conclusion based on decent and honorable religious or philosophical premises, and neither they nor their beliefs are disparaged here. But when that sincere, personal opposition becomes enacted law and public policy, the necessary consequence is to put the imprimatur of the State itself on an exclusion that soon demeans or stigmatizes those whose own liberty is then denied. Under the Constitution, same-sex couples seek in marriage the same legal treatment as opposite-sex couples, and it would disparage their choices and diminish their personhood to deny them this right."

"[T]he right to marry is a fundamental right inherent in the liberty of the person, and under the Due Process and Equal Protection Clauses of the Fourteenth Amendment couples of the same-sex may not be deprived of that right and that liberty. The Court now holds that same-sex couples may exercise the fundamental right to marry. No longer may this liberty be denied to them."

"There may be an initial inclination in these cases to proceed with caution—to await further legislation, litigation, and debate. The respondents warn there has been insufficient democratic discourse before deciding an issue so basic as the definition of marriage. In its ruling on the cases now before this Court, the majority opinion for the Court of Appeals made a cogent argument that it would be appropriate for the respondents' States to await further public discussion and political measures before licensing same-sex marriages. See DeBoer, 772 F. 3d, at 409.

"Yet there has been far more deliberation than this argument acknowledges. There have been referenda, legislative debates, and grassroots campaigns, as well as countless studies, papers, books, and other popular and scholarly writings."

Early Warning Signs – Overfocusing on the Part to the Neglect of the Whole

"Were their intent to demean the revered idea and reality of marriage, the petitioners' claims would be of a different order. But that is neither their purpose nor their submission. To the contrary, it is the enduring importance of marriage that underlies the petitioners' contentions. This, they say, is their whole point. Far from seeking to devalue marriage, the petitioners seek it for themselves because of their respect—and need—for its privileges and responsibilities. And their immutable nature dictates that same-sex marriage is their only real path to this profound commitment."